You Be The Chemist Activity Guides, presented by Brenntag North America, Inc., are roadmaps for fun, hands-on science experiences that help develop students' abilities to engage in sustained scientific inquiry.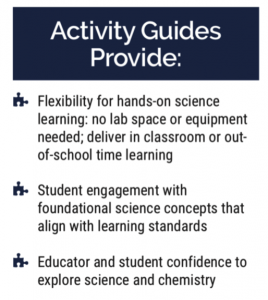 The Activity Guides cover a range of topics across chemistry, biology, and physics, and can be extended to cover much more. The format fits seamlessly with spiraled science instruction and standards. Now in its Fifth Edition, the Activity Guides are organized into these sections:
Properties of Matter
Chemical Reactions
Energy
Forces & Interactions
Life & Earth Sciences
Thanks to the generosity of our donors and sponsors, the Activity Guides are available for free!
What Teachers are Saying:
"I love the hands-on activities. I can't wait to take all these activities back to my classroom!"
"You made it so easy to follow along … So simple since I am so busy so THANK YOU!"