Board of Trustees Officers
Terry Hill, President           
Chief Executive Officer North America, Barentz, Avon, OH
Mr. Hill began his career with Univar in 1985 and held a variety of sales and management positions during his tenure with the company, including President of Univar USA and Executive Vice President – Industry Relations. He founded Apex Distribution Consulting and served as its President before becoming CEO of Maroon Group, and subsequently Barentz North America. Mr. Hill is a member of the American Chemical Society.
Robert Moser, Jr., Vice President           
Senior Vice President of Global Accounts, Brenntag North America, Inc., Reading, PA
Mr. Moser joined Brenntag in 1978 in Pittsburgh, PA. He served in a variety of positions including commercial management, supplier development and procurement, and regional management before taking on his current role as Brenntag's Senior Vice President of Global Accounts. Mr. Moser also acts as Brenntag's Director of Government Affairs for North America. Mr. Moser received a BS in Biology from the University of Connecticut and an MBA from the Katz School of Business at the University of Pittsburgh. He also graduated with advanced training in International Leadership from Ashridge College in the U.K.
Megan E. Gluth-Bohan, Esq., Treasurer
Owner and CEO, TRInternational, Inc., Seattle, WA
Megan is the Owner and CEO of TRInternational, Inc., a national chemical distributor headquartered in Seattle, WA. Megan is responsible for overseeing the day-to-day affairs of the Company's business, as well as providing the leadership and creative vision for the Company's future. Megan's background as an attorney makes her a pragmatic and effective leader.
Megan is the Board Treasurer for the Chemical Education Foundation (CEF) and the National Association of Chemical Distributors (NACD).  She has served the industry in a variety of roles as a former NACD Director at Large, as well as in a variety of committee positions.
Megan received her BA from the University of Minnesota, and her JD from the University of St. Thomas School of Law- both in Minneapolis, MN. She is licensed to practice law in Minnesota, Oregon, and Washington.
Dwayne Sattler, Secretary
Executive Director, Chemical Educational Foundation, Arlington, VA
Dwayne joined CEF as Executive Director in April 2017. He leads the industry-focused nonprofit's efforts to inspire today's students to become tomorrow's STEM workforce.
Prior to joining CEF, Dwayne served as the Associate Vice President for Policy at The Ohio State University, Office of Research. In that role, he directed corporate and public-sector partnerships for the Ohio Technology Consortium securing funding for research and STEM education programming.
Dwayne previously led industry economic competitiveness, workforce talent and community social responsibility efforts through his own consulting firm, Network Government Relations, LLC and the development of national workforce policy as the Staff Director of the U.S. Senate Subcommittee on Employment and Training.
Dwayne earned his Master's degree in Public Policy and Management from The Ohio State University and Bachelor's degree in Communications from Bowling Green State University.
Board of Trustees Members
Rob Benedict
Senior Director, Petrochemicals, Transportation, and Infrastructure, American Fuel & Petrochemical Manufacturers, Washington, DC
Rob Benedict is Senior Director of Petrochemicals, Transportation, and Infrastructure at American Fuel & Petrochemical Manufacturers (AFPM), the trade association that represents the makers of the fuels that keep our country and the world moving and the petrochemicals that are the building blocks for modern life. In this role, Rob develops association policy on Congressional legislation and regulatory matters and advocates for AFPM member companies by communicating their key role in the supply chain and their efforts to improve the safe and efficient transportation of essential products. Rob co-leads AFPM's sustainability program which promotes the Fuel and Petrochemical Industries' commitment to being part of sustainable future.
Prior to joining AFPM, Rob served as the Chief of the Risk, Data, and Program Management and Senior Regulations Officer at the Department of Transportation's (DOT) Pipeline and Hazardous Materials Safety Administration (PHMSA).  Here Rob provided integrated planning and evaluation of programmatic activities and was responsible for the development of national standards and policies to promote a safe and secure transportation system.
Rob received a Master of Science degree in Engineering Management from George Washington University. He received his Bachelor of Science in Biology, from Wake Forest University where he was a Sullivan's Scholar.
Edward Boss
CEO/President, Riteks, Inc., Houston, TX
Douglas Brown
President & CEO, Brown Chemical Co., Inc.; Oakland, NJ
Mr. Brown became the President of Brown Chemical Co., Inc. in 1986 and has worked in the chemical industry for over 35 years. Additionally, He has been an active member of the National Association of Chemical Distributors for over 20 years, where he has held various leadership roles. In 2012, Mr. Brown received the Lifetime Achievement Award from NACD.
Cathy Campbell
President, Responsible Distribution Canada; Ontario, Canada
Ms. Campbell has been with RDC for 23 years. She started as the Member Service Coordinator and now holds the position of President. RDC is a trade association for the Canadian chemical and ingredient supply chain, representing its members opposite government, and all stakeholders. RDC's members commit to a chemical management system known as Responsible Distribution®, based on the continual improvement of transportation, health, safety, environment, stewardship and sustainability. Cathy is proud to monitor the member's compliance with the use of a third party environmental audit firm.
Cathy has won awards from The Royal Canadian Mounted Police for the work she has done at RDC with the chemical diversion program. She has been involved with two video productions, Courage in Red, an RCMP program, and Deadly by Design, a Doc Zone production.
Cathy sits on the Board of RDC and is a volunteer on the Board of Directors in the community where she lives. She is currently chairing the Chemical Allied Industries Group (CAIG), a group working together with Innovation, Science & Economic Development Canada for the betterment of the chemistry industry.
Tom Corcoran
Vice President, Food & Nutrition, Brenntag Group, Reading, PA
Mr. Corcoran has been with Brenntag North America organization since 2003, where he has held many positions, including President of Brenntag Southwest, headquartered in Lancaster, TX. In 2013, Mr. Corcoran joined the North American Executive Council, and leads the strategic sourcing, focused industry and DEF business. In 2016, he was asked to assume a global role for the Brenntag Group, reporting to the CEO, and work closely with the four regional Chief Executives and other line management functions to coordinate the implementation of initiatives and provide Board level expertise in the areas of commercial excellence and efficiency.
Aileen Doyle
Senior Director, Univar Solutions, Charlotte, NC
Ms. Doyle has been with Univar Solutions since 1988 where she had held a variety of sales and management roles.  She leads Univar Solution's community partnership with Shadowbriar Elementary, Houston, TX to promote hands on chemistry through grades 3-5. Ms. Doyle further promotes STEM education by volunteering as an Organizer for the You Be The Chemist Challenge, regionally and nationally.
Calvin Emanuel, Ph.D.
Vice President of Strategy Primary Resources Sector, Nalco Water/An Ecolab Company, Houston, TX
Dr. Emanuel is the Vice President of Strategy for Nalco Water, an Ecolab Company. He leads the strategic direction setting for the primary resources sector. Dr. Emanuel has had a varied career in the chemical industry and has worked for BASF and Shell Chemical in numerous areas including R&D, manufacturing, commercial and business development. He supports STEM education with CEF, by volunteering with You Be The Chemist local, state, and national Challenges, and by expanding the Essential Elements program in Texas. Dr. Emanuel earned his Ph.D. in Physical Organic Chemistry in 1999.
Kurt Hettinga
President, Superior Solvents & Chemicals; Indianapolis, IN 
Mr. Hettinga joined Superior as a Sales Representative for Northern Indiana in 1996.  Since then, he has held positions as G.M. of Ohio, Regional Sales Manager, and VP of Sales. He currently serves as President of this 100% employee-owned regional chemical products and services provider.
Daniel McLaughlin  
Commercial Director – North America, ICL Performance Products, St. Louis, MO
Mr. McLaughlin started his career as an Analytical Chemist with Monsanto in 1992.  He has held several positions within ICL including technical support, product management and sales. Mr. McLaughlin has a BS in Biology from Augusta State University.
Meredith Morris
Global Education Leader, Global Citizenship, Dow, New York, NY
Meredith Morris leads Dow's commitment to Building the Workforce of Tomorrow, driving strategy around the Global Citizenship priorities of empowering educators, getting students excited about pursuing STEM fields, and turning that excitement into successful career pathways. Meredith coordinates across public affairs, human resources, government affairs, R&D, Dow businesses, and an executive level STEM Council, to ensure the company is driving strategic global investments and creating meaningful partnerships. In addition, she leads the company's STEM Ambassador program, where more than 3,000 employees across the globe engage in their communities with teachers, students, and key stakeholders to positively impact local education and workforce needs.
Previously, Meredith held roles at Dow in Executive Communications in Midland, Michigan and Hong Kong for the Asia Pacific region. Before coming to Dow, Meredith spent four years at the Clinton Global Initiative in New York City. Prior to that, she worked for the French Embassy as an English Language Assistant Teacher in Rennes, France.
Greg Roop
Associate Director, Compliance, North America, IMCD Americas, La Mirada, CA
Mr. Roop has worked for Horn (formerly E.T. Horn) for the past ten years. He has regulatory, quality and human resources oversight responsibility for all eight of Horn's divisions. Prior to Horn, he spent six years with Firmenich in a global sourcing role. Mr. Roop's background is in pharma, fragrance and flavor manufacturing, and his strengths include international strategic sourcing and domestic regulatory programs. Mr. Roop graduated with a B.A. in Business and a minor in International Business from California State, Fullerton. He has served as a volunteer for CEF's You Be The Chemist Challenge program since 2007.
Bruce Schechinger
President, Precision Aerial Drones, Salt Lake City, UT
Mr. Schechinger began his career with Stauffer Chemical in 1979 as a Sales Representative. He continued his career with Texasgulf and the LCI Chemicals in various sales and marketing positions. In 1998, Mr. Schechinger purchased REP Chemical and established BHS Marketing LLC (independent), a full line distributor with sales throughout North America and also into international markets.
Colie Whitaker
President, Whitaker Oil Company, Atlanta, GA
Colie is President of Whitaker Oil Company, a 4th generation family owned business headquartered in Atlanta.  Whitaker is a chemical distributor and manufacture that handles a verity of services from railcar delivery of hydrocarbons to specialty blends and formulations packaged into 22 oz. bottles.
Colie started working for Whitaker each summer at the age of 14 in Operations were he loading trucks, filled drums and unloaded truck and railcars.  After a 12 year career in the military, Colie came back to work with Whitaker and has now been back with the company for the last 6 years.  He has severed as Chief Operating Officer and Assistant VP of Operations.
Prior to joining Whitaker Oil Company, Colie was a Major in the US Air Force and flew the U-2 spy plane.  While in the Air Force, he was awarded a Meritorious Service Medal, 5 Combat Air Medals and served as the Director of Operations and Chief of Strategic Plans.  He is a combat veteran of both OPERATION ENDURING FREEDOM and OPERATION IRAQI FREEDOM.
Colie graduated from Clemson University and is married with 3 sons.
Content Development Team
A volunteer group of professional scientists, educators, and industry members who review CEF's program content to ensure that it is accurate, educationally effective, and accessible for students.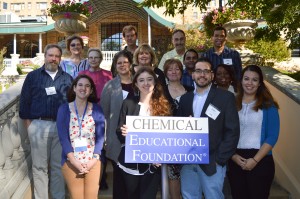 Dr. Elvin Alemán
Associate Professor, Department of Chemistry, California State University, Stanislaus
Dr. Lauren Amable
Staff Scientist, National Institutes of Health
Ms. Kathy Biernat
Science Teacher, St. Mary's Visitation School
Mr. Aidan Blum
Project Engineer, PVS Chemicals, Inc.
Ms. Rosalie Bordett
Student, University of Connecticut
Dr. Christina Boville
Postdoctoral Scholar, Resnick Institute, Caltech
Dr. Angela Carraway
Chemistry Instructor, Meridian Community College
Dr. Michael Danahy
Lecturer, Department of Chemistry, Bowdoin College
Mr. Mike Davis
Professor of Chemistry & Education, Truman College
Dr. Dilip Dias
Senior Scientist, BD Technologies
Ms. Rachael Gardner
Teacher, Sioux City Community Schools
Dr. Marcia Gillette
Senior Lecturer in Chemistry, Indiana University Kokomo
Mr. Chuck Wheeler Handlon
Adjunct Professor, Winona State University
Dr. Thomas Holme
Professor, Chemistry Department, Iowa State University
Mr. Steven L. Jacobs
Chief Scientist, Faraday Studios
Dr. Kimberly Jacoby Morris
Postdoctoral Fellow, National Institutes of Health
Ms. Kathleen Koziski
Retired Chemist, The Dow Chemical Company
Dr. Georgina Little
Instructor of Chemistry, Department of Chemistry & Physics, Southeastern Louisiana University
Dr. Renee Love
Teacher, Atlanta Public Schools
Dr. Ajay Mallia
Assistant Professor of Chemistry, School of Science and Technology, Georgia Gwinnett College
Dr. Johanna Mazlo
Adjunct Assistant Professor, Chemistry & Biochemistry, The University of North Carolina at Greensboro
Dr. Steve Miller
High School Chemistry Teacher, Pines School
Ms. Ronni Moore
Lead Instructor, The Excel Center-Meadows
Dr. Richard Myers
Director, Kemin Industries
Mr. Douglas A. Nafis
Senior Development Specialist, UOP, LLC/A Honeywell Company
Dr. Brittany Pequegnat
Postdoctoral Research Fellow, Brigham and Women's Hospital and Harvard Medical School
Dr. Rosalynn Quiñones-Fernández
Assistant Professor, Department of Chemistry, Marshall University
Dr. John Rakus
Assistant Professor, Department of Chemistry, Marshall University
Mr. Sean Reid
AP Chemistry Teacher, Walt Whitman High School
Dr. Paul Russo
Professor of Materials Science and Engineering, Georgia Institute of Technology
Dr. Thomas Sommerfeld
Associate Professor, Southeastern Louisiana University
Dr. Roxanne Spencer
Chemistry Teacher, Princeton International School of Mathematics and Science
Mr. Shawn Sutton
Science Teacher, Long Valley Middle School
Dr. Yiftah Tal-Gan
Assistant Professor, Department of Chemistry, University of Nevada, Reno
Dr. Quan Yuan
Scientific Editor/Study Abroad Consultant, Bridge Bright Future Consulting LLC
Dr. Xujun Zhang
Graduate, Georgia Institute of Technology